Owego Apalachin Athletics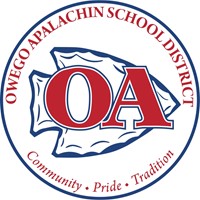 Welcome to Owego Apalachin Athletics - Sports Registration.
For your student to be cleared to play, you must:
1) Complete FamilyID Form which includes important health information reviewed by the Nurses office prior to each season; as well as mandatory policies and agreements.

2) Provide a Current Physical: Either upload current image of physical to the FamilyID sports registration form or bring a copy to the Nurse's office. Physicals expire 12 months after the date of health exam. No athlete will be permitted to play or tryout with an expired physical.
Every Friday, there is a UHS Nurse Practitioner in the OAMS/OFA nurse's office. If you want to schedule sports physicals through the school district, please contact OAMS/OFA Nurse RaeAnne Miller at millerra@oacsd.org and make an appointment.
** Health Updates are a NY state mandate and are a different form than the sports physical. These are mandatory for each season of competition and are not subject to a waiver. This form is included on your FamilyID online registration.
** No student-athlete will be allowed to participate on the first day of practice unless ALL of the required documents are reviewed and signed; and all health forms are current.
Registration submission start dates:
All Varsity/JV Sports: 10/17/2022
All Modified Sports: 11/1/2022
*Registration dates are based on the start date for each level/sport. Health updates cannot be submitted more than 30 days prior to the first practice. This is why there are different registration open dates for different sports/levels.
Official Winter Season Start Dates:

All Varsity/JV Sports: 11/14/2022
All Modified Sports: 11/28/2022
Schedule Galaxy has a Mobile App!!
Click HERE for instructions and a link to download or head to your App or Google Play store and search "Schedule Galaxy" and log in using your Schedule Galaxy Account Information!
Click the ScheduleGalaxy logo to view the athletics schedule and to register for alerts. Use the "quick toggle" to locate a specific team, or check schedules via the calendar view.
Scroll down to view the entire, full screen schedule...
Full OA Athletics Schedule
Additional Information...
Director of Athletics:
Secretary:
Phone: (607) 687-7301 ext. 2081
1 Sheldon Guile Boulevard Owego, NY 13827
OAMS/OFA Nurse:
Phone: (607) 687-7301 ext. 2020
Fax: (607) 687-7338
For the quickest response, please use the Let's Talk! feature found on the right hand side of the page!
Live Streams & Media Coverage
Watch OFA Athletic home events live or on demand on our YouTube Channel. Click the logo above to access our videos and live streams.
Watch OFA athletic events live or on demand with the NFHS Network (Subscription Required). Click the logo above to find out more.
Visit Tioga County Sports Report for complete coverage of all OFA Athletic events.
Visit the Southern Tier Athletic Conference (STAC), Section 4 or New York State Public High School Athletic Association websites by clicking on their photo below: